Hernan Hecht
(Drummer, Composer, Designer)
Drummer, composer, producer, teacher, promoter and visual artist on major projects in Latin America. Awarded with the Latin Grammy Award 2010 he is active member of more than 20 groups of Jazz, Rock, World Music and Electronics in USA and Mexico.
His academic background, which includes master classes and seminars with musicians such as Fred Frith, Alex Acuna, Will Kennedy, Bill Bruford, Pat Mastelotto, Allan Holdsworth, Gary Husband, Danny Gotlieb, Mike Stern, Joey Heredia, Joe Zawinul, Alphonso Johnson, Makoto Ozone, John Scofield, Giovanni Hidalgo, Dave Weckl and Clarence Penn - has been consolidated with extensive work experience.
His mastery of the instrument, conceptual eclecticism and breadth, have allowed him to play with artists as diverse as Bill Carrothers, Jonathan Kreisberg, Tim Berne, David Gilmore, Mark Helias, Eli Degibri, Dave Fuzcinsky, Elliot Sharp, Ikue Mori, Zeena Parkins, Jay Rodriguez, Elio Villafranca, Dean Bowman, Sam Barsh, Mark Aanderud, Agustín Bernal, Nicolás Santella, Omar Rodríguez, Frank Gambale, Scott Henderson, Statements Dúo, Jarry Singla, Dave McMurdo, Alex Machacek, Marco Capelli, Brent Jensen, Randy Vincent, Rob Walker, Brian Allen, Jacob Koller, Rick Parker, Luis Salinas, Dave O'Higgins, Tom Cawley, Jack De Keyzer, David Rotundo, Luis Nacht, Rodrigo Dominguez, Beto Caletti, Ely Guerra, Natalia Lafourcade, Ximena Sariñana, Lila Downs, Magos Herrera, Adanowsky, and many more…
In his intense activity as a sideman and his work as transferor, joins his teaching of private lessons and master classes throughout the Americas, while maintaining as a cornerstone of many projects such as: RHA trio, Brian Allen | | Hernan Hecht Duo, Brainkiller, SHO Trio, Quartet MOLE, Ambien Assault, Jade Skull, Bill Carrothers Trio, Nicolas Santella Trio, in addition to leading his own projects "Hernan Hecht X-Pression Quartet" and "HH Gru-ß Project
He has recorded over 80 CD's in Mexico, 20 of which have worldwide distribution. He has played in Argentina, Mexico, USA, England, Spain, France, Thailand, Colombia, Venezuela, Puerto Rico and Chile.
He created and coordinated the festivals "JazzHabito" (2002), "ArtLife JazzFest" (2003) and the "Jazz Marathon for the Victims of the Hurricanes in Chiapas and Quintana Roo" (2005). He wrote the music for the Mexican film "Todos los Besos" (2007), "Las Noches del Mal" (2009), "Reacciones Adversas" (2011) and for the documentary "Omine Patris", based on the work of the British visual artist Damien Hirst.
As an activist, vegetarian and his consistent lifestyle he is part of different civil animal protection and environmental associations such as: Peta, Greenpeace Argentina and Greenpeace Mexico.
He is sponsored by: Zildjian, Gretsch, Evans, Gibraltar, M-Audio, Digidesign and Sibelius.
He was part of:
Drum Festival "La Fiesta de los Bateristas Argentinos", Argentina 1995 and 1996
Drum Festival "Seis en el tiempo" México 97', 98'
11'th Drums Meeting In Mexico 2002
4th Drums Meeting in Puebla 2002, 2003 and 2006
Semifinalist of Drum Off in Guitar Center (1998), Los Angeles, CA USA
Drum Festival "América, Asia And África" Mexico 1999
Drum Festival "La Noche más Caliente de los Bateristas Argentinos" Buenos Aires, Argentina 2002
Drum Festival "Encuentro Internacional de Bateristas en Puebla", Puebla 2006, Mexico
Corresponsal of "Club de Bateristas Argentinos" (Argentinean Drummers Club).
He has played all throughout Argentina, Mexico, Puerto Rico, Colombia, Chile, Europe and the United States.
Hernan Hecht
is sponsored by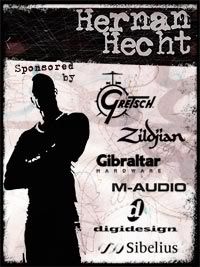 ______________________________________________
-top-
______________________________________________
-top-
New release of Ely Guerra, Live at Teatro Metropolitan
I'm working in a new album whit my new group "Gru-B Project"
I'm finish the music of the Documental of Demian Hirst in Mexico City. Click Here
Check the last interview in Argentina (June) www.revistaleche.com.ar
Check the New Album of Israel Cupich "Hecho en Casa" Click Here
Listen tha last concert of Nicolas Santella Trio at the 2th Aniversary of Ankora School of Music in Queretaro Click Here
I'm a new part of the Zildjian & Co. www.zildjian.com aaaaaaawwwwwww!!!!!
Last Interview in Video, Visit www.antarrec.com , The you can find the Interview in differents Parts!
______________________________________________
-top-
Hernan Hecht Gru-B project
Cristian Mendoza - T. Sax / Mark Aanderud - Rhodes / Marco Renteria - Bass / HH - Drums
Web Site Click Here
Bill Carrothers / Hernan Hecht Trio


Bill Carrothers - Piano / Agustin Bernal - Acoustic Bass / HH - Drums

Elumen Tony Malaby - T. Sax / Jacob Koller - Piano & Electronics / Brian Allen - Trombone & Electronics / Hernan Hecht - Drums & Electronics
Web Site Click Here
______________________________________________
-top-